Silly is a japanese teenager and the daughter of Okami and Rowan Artifex. She has a brother named Necra but he is rarely seen through the series. She has medium length brown hair with blonde tips and glasses. She is always student of the year, which is totally not rigged by her parents. She is one of the members of the SWAT team. Silly is briefly seen in 'THEY'RE BACK' with her mother. She is also seen in Tokyo Soul and 'Young Yandere', following the trio with her mother (and late father) close behind. All in all, she loves just being around Sam, Taurtis and Grian, since she grew up with them and, basically, knew them forever.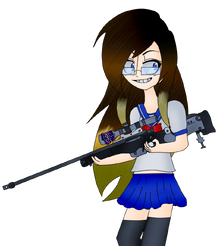 Name: Silly Jillian Artifex
Age: 16
Weight: 119 lbs
Height: 5'2
Species: Human
Crush: Grian
Debut: WHO IS WATCHING US?!