Star Finder was a member of the Inagawa-kai division of the Yakuza. He commonly robbed stores of money and supplies and enjoyed gambling and playing Poker. Eventually he was going to rob Fishking Freddy but he was killed immediately when Taurtis shot him once with a 500 Magnum Firearm in the back of the head. The sheer force of a point blank 50 caliber bullet hitting Star's head at 2,170 kilometers per hour blew the Yakuza's head clean off.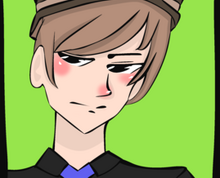 Name: Star Finder
Age: 29
Species: Human
Gender: Male
Height: 5 Foot 11
Weight: 176lbs
Crush: Galaxy Mettaton
Debut: GANG LIFE! #57
Death: CANT LEAVE THEM ALIVE! #71
Ad blocker interference detected!
Wikia is a free-to-use site that makes money from advertising. We have a modified experience for viewers using ad blockers

Wikia is not accessible if you've made further modifications. Remove the custom ad blocker rule(s) and the page will load as expected.