Storm Form was the leader of the Yakuza division, Sumiyoshi-kai. His main job was to smuggle Special Sugar.
Eventually he ran into one of his daughter's classmates, Samuel Gladiator who was broke along with his friend Taurtis. He lied saying he was a nice guy and gave them "special sugar" to sell. When they came across Okami Amy Artifex-Jiri Née Artist. The teacher immediately recognized it as Sumiyoshi-kai brand Cocaine. She hired Paul Blart to bust the Yakuza member with herself and her daughter Silly Artifex-Jiri. It was a success and Okami shot 7 rounds into Storm's head killing him within milliseconds.
Name: Storm Form
Age: 525
Species: Fairy
Weight: 185lbs
Height: 6'3
Crush: None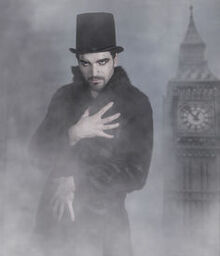 Ad blocker interference detected!
Wikia is a free-to-use site that makes money from advertising. We have a modified experience for viewers using ad blockers

Wikia is not accessible if you've made further modifications. Remove the custom ad blocker rule(s) and the page will load as expected.